ARFF Consulting:
Airport Professional Services, LLC (APS) was formed in 2001 as an aircraft rescue firefighting (ARFF) consulting company.  Our original purpose was to provide consulting services to airport managers in the development of new ARFF facilities, plans and programs, improvement of established ARFF processes and procedures, development of disaster preparedness and recovery plans, development of ARFF training plans and programs, and performing ARFF training. But seeing the need to offer hands on training for various aircraft firefighting appliances we redirected our efforts to develop the PAST device. Which has become the leader in simulated aircraft skin penetrating devices.

Penetration Aircraft Skin Trainer (PAST Trainer) Hands-on, High-Reach Extendable Turret (HRET) Fuselage Penetration Training System:
Subsequently, APS invented and patented innovative and imaginative one-of-a-kind hands-on ARFF training products that provide ideal solutions to ARFF challenges and problems. This includes the manufacturing, marketing, and selling of the Integrated Penetration Aircraft Skin Trainer (PAST Trainer) System.  It is comprised of the PAST Trainer, the removable and replaceable aircraft fuselage grade aluminum panels, and the Foundation Anchor System (FAS).   Our goal is to fully develop this very realistic and  highly effective  hands-on High Reach Extendable Turret (HRET) Penetration Training System and continue to improve our product line to meet the training demands of the aviation firefighting industry 
Airport Professional Services (APS) 
PAST TRAINER OWNER DOCUMENTS
Shipment Documents:
Shipment Packaging Description and Information
Shipment Packing List
Shipment Inspection Requirements and Instructions
Front and Back Cover for Owner Documents
Sales Documents:
Limited Warranty
Sales Terms and Conditions
User Documents:
PAST Trainer User's Guide
PAST Trainer Maintenance Guide
PAST Trainer Installation Guide *
PAST Trainer Hands-On HRET Penetration Training Guide * *
* The Installation Guide is provided to buyers that purchase the PAST device. We ask buyers to inform us if they use any installation methods or procedures that are not already in the Installation Guide. We continue to review and upgrade the Guide for the benefit of future PAST Trainer buyers.
** The Training Guide is provided to buyers of the PAST device. This Guide is a proprietary document containing information that is owned solely by APS and all owners of the PAST Trainer. We ask buyers to inform us if they use any HRET penetration training methods or scenarios that are not already in the Training Guide. We add the feedback to the Training Guide. When we have substantial new training information, we publish a new edition of this Guide, which we distribute by email to all PAST Trainer owners–ARFF Chiefs and Training Officers/Coordinators. By this means many Trainer users benefit from the training experience of many other users. We have distributed numerous revised editions of this Guide.
PAST Trainer and Replacement Panel Shipments:
We utilize several freight companies to service our shipments.  We have used the same companies for many years, and they have provided consistently high quality services to us.  We have never experienced any damage during the many years we have shipped our products. For each shipment we request shipping quotes from each of the freight companies, and we select the freight company with the lowest-price quote to service that specific shipment.  Our customers pay the shipping costs so we owe it to them to ensure the shipping price is as low as possible without comprising quality service and timeliness.
Request a Price Quote:
We invite you to request a price quote for the PAST Trainer System or replacement panels, as well as for ARFF consulting services by using the formal request form on our Current Price web page.  For requests for price quotes for products It is important for you to include the shipping address so we can include the shipping and handling price in our price quote.  Our price quotes are valid for approximately 30 days, in spite of the fact that the shipping quotes we receive are typically valid for only one week.  We know the buyer usually cannot process a purchase order in a week, so we assume the risk of the shipping price increasing until we receive the purchase order.
Ask Questions and Request Information:
Also, you may ask questions and request information–other than pricing–using the form on our Contact Us web page, and you are welcome to contact us by email at info@apspast.com
Manufacturing and Shipping Management: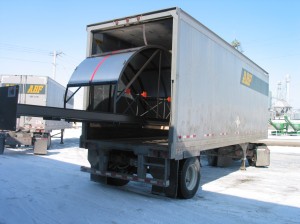 APS' products are manufactured using a just-in-time production schedule in which PAST Trainers are manufactured only in quantities needed to fulfill current and expected near-term orders. Aluminum penetration panels are manufactured in large quantities and stored as inventory in the APS Shipping Center readily available for shipment on fairly short Orders are fulfilled on a first-come, first-served basis, and are usually shipped within four to six weeks following our receipt of the purchase order.    The following photos show a PAST Trainer configured with two sets (boxes) of spare aluminum penetration panels and a Foundation Anchor System, and the wooden platform on which they are mounted.
Headquarters Offices:
The corporate headquarters are located at:
Airport Professional Services LLC. 16824 Preston Bend Dr. Dallas, Texas 75248
Significant FAA Documents Relating to the High Reach Extendable Turret (HRET) and the Penetration Aircraft Skin Trainer (PAST Trainer):