ARFF Consulting:
Airport Professional Services, LLC (APS) was formed in 2001 as an aircraft rescue firefighting (ARFF) consulting company.  Our original purpose was to provide consulting services to airport managers in the development of new ARFF facilities, plans and programs, improvement of established ARFF processes and procedures, development of disaster preparedness and recovery plans, development of ARFF training plans and programs, and performing ARFF training.  We have provided consulting services to airports overseas, and we continue to do so both independently and as a company team member on large consulting contractor teams.

Penetration Aircraft Skin Trainer (PAST Trainer) Hands-on, High-Reach Extendable Turret (HRET) Fuselage Penetration Training System:
Subsequently, APS invented and patented innovative and imaginative one-of-a-kind hands-on ARFF training products that provide ideal solutions to ARFF challenges and problems. This includes the manufacturing, marketing, and selling of the Integrated Penetration Aircraft Skin Trainer (PAST Trainer) System.  It is comprised of the PAST Trainer, the removable and replaceable aircraft fuselage grade aluminum panels, and the Foundation Anchor System (FAS).   APS spent several years designing, developing, fine tuning, and perfecting the design of the PAST Trainer and the other integrated System components.  Our goal was to fully develop this very realistic and  highly effective  hands-on High Reach Extendable Turret (HRET) Penetration Training System.  It is described in greater detail on our PAST Trainer web page.
Airport Professional Services (APS) Ownership:
APS is owned by its President, Gary T. Schott, MSA, who has served in the ARFF field for over fifty years. He held key positions, including that of Base Fire Chief in Air Force fire protection, at numerous bases in the United States and overseas. From 1990, until his retirement in April, 2011, he was the Fire Chief of the Omaha Airport Authority's Eppley Airfield. During this distinguished period of ARFF service, Chief Schott achieved a twenty-one year consecutive record of perfect, error-free, annual FAA Regional ARFF Inspections. An achievement not recorded elsewhere  in FAA records. The FAA Regional Inspector attended Chief Schott's retirement ceremony and spoke admirably of Gary's significant achievements in the Airport's FAA ARFF Inspections, as well as his significant influence and contributions to the ARFF community at large. Gary served as Chairman of the ARFF Working Group Board of Directors, and continues his active membership.  Also, he was a Primary Member of the National Fire Protection Association (NFPA) Technical Committee for Aircraft Rescue and Firefighting.
Gary Schott was recalled by the Omaha Airport Authority to serve for a year and a half in the same position from which he previously retired–that of the Eppley Airfield Fire Chief.  Gary served in that capacity during the period February 2015 to July 2016, during which time he achieved yet another error-free Annual Regional FAA Inspection. Then Gary received his second retirement from that position.
APS Operations Management:
Airport Professional Services contracts with Flanagan Consulting, LLC to manage APS' day-to-day operations. Flanagan Consulting manages and performs the following operations:
Supervises and performs as the PAST Trainer System Sales Team
Prepares and provides price quotes with shipping and handling prices
Business development, marketing, and advertising
Company-wide internal and external communications–phone, email, and mail
Provides guidance to buyers on PAST Trainer installation
Schedules PAST Trainer and replacement panel shipments
Produces shipment bill of ladings and packing lists
Prepares required NAFTA forms for shipments to Canada and Mexico, and other forms required for shipments to overseas locations
Provide customer services, including delivery status reports to the buyers
Prepares and sends sales invoices, and collects payments
Provide ongoing PAST Training System support and services to buyers
APS website data insertion and general maintenance including ongoing updates on deliveries, and other changes and additions
Development, maintenance and production of all Owner Documents, as follows:
PAST TRAINER OWNER DOCUMENTS
Shipment Documents:
Shipment Packaging Description and Information
Shipment Packing List
Shipment Inspection Requirements and Instructions
Front and Back Cover for Owner Documents
Sales Documents:
Limited Warranty
Sales Terms and Conditions
User Documents:
PAST Trainer User's Guide
PAST Trainer Maintenance Guide
PAST Trainer Installation Guide *
PAST Trainer Hands-On HRET Penetration Training Guide * *
* The Installation Guide is provided to buyers at no additional charge. We ask buyers to inform us if they use any installation methods or procedures that are not already in the Installation Guide. We add the feedback to the Guide for the benefit of future PAST Trainer buyers.
** The Training Guide is provided to buyers at no additional charge. This Guide is a proprietary document containing information that is owned solely by APS and all owners of the PAST Trainer. We ask buyers to inform us if they use any HRET penetration training methods or scenarios that are not already in the Training Guide. We add the feedback to the Training Guide. When we have substantial new training information, we publish a new edition of this Guide, which we distribute by email to all PAST Trainer owners–ARFF Chiefs and Training Officers/Coordinators. By this means many Trainer users benefit from the training experience of many other users. We have distributed numerous revised editions of this Guide.
When we are ready to ship, Flanagan Consulting prepares the Bill of Lading, NAFTA forms, other forms for overseas shipments, and Packing List, and schedules a freight company to pick up each shipment from the APS Shipping Center for delivery to our customers.  While the shipments are en route, we keep the buyers informed of the delivery status and the estimated delivery date.  It is important for the buyers to know the projected delivery date because for the nearly 1,000 pound PAST Trainer they must have a heavy-duty (minimum 6,000 pound) forklift on hand to download their PAST Trainer safely and securely upon delivery.  For that reason we require the freight company to contact the buyer in advance to schedule a delivery appointment.  We require the same for the delivery of replacement panels, although they can be downloaded with a smaller forklift. After delivery, we submit our invoice to the buyer, and provide continuing support and services.
PAST Trainer and Replacement Panel Shipments:
We utilize several freight companies to service our shipments.  We have used the same companies for many years, and they have provided consistently high quality services to us.  We have never experienced any damage during the many years we have shipped our products. For each shipment we request shipping quotes from each of the freight companies, and we select the freight company with the lowest-price quote to service that specific shipment.  Our customers pay the shipping costs so we owe it to them to ensure the shipping price is as low as possible without comprising quality service and timeliness.
Request a Price Quote:
We invite you to request a price quote for the PAST Trainer System or replacement panels, as well as for ARFF consulting services by using the formal request form on our Current Price web page.  For requests for price quotes for products It is important for you to include the shipping address so we can include the shipping and handling price in our price quote.  Our price quotes are valid for approximately 30 days, in spite of the fact that the shipping quotes we receive are typically valid for only one week.  We know the buyer usually cannot process a purchase order in a week, so we assume the risk of the shipping price increasing until we receive the purchase order.
Ask Questions and Request Information:
Also, you may ask questions and request information–other than pricing–using the form on our Contact Us web page, and you are welcome to contact us by email at garyschott@outlook.com.
Manufacturing and Shipping Management: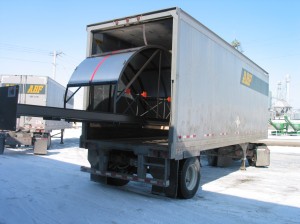 Gary Schott manages the APS Shipping Center and all of APS' manufacturing and shipping functions. APS' products are manufactured using a just-in-time production schedule in which PAST Trainers are manufactured only in quantities needed to fulfill current and expected near-term orders. There is limited storage space for Trainers so only those which are being readied for shipment are in the APS Shipping Center, located in Plattsmouth, Nebraska.  However, aluminum penetration panels are manufactured in large quantities and stored as inventory in the APS Shipping Center readily available for shipment on fairly short notice.  Because APS has sold/delivered over a hundred and ten PAST Trainers we have enhanced our panel production to meet ever-increasing demands.  When we receive purchase orders for PAST Trainers or replacement aluminum panels, we configure the shipments with the specific products that fulfill the orders.  Then we further prepare them to be shipped. For Trainer orders we construct a wooden platform within and attached to the I-Beams of the Trainer on which we secure the spare aluminum panels ordered.  This adds weight, but not size/volume to our shipments, and the freight companies charge us–not by the weight of the shipment–but by the volume of space it occupies on their Pup trailers. So we reduce the shipping cost by doing this. Orders are fulfilled on a first-come, first-served basis, and are usually shipped within four to six weeks following our receipt of the purchase order.  However, when customers lets us know in advance of exactly what they are ordering, that enables us to begin the shipment preparation process earlier, and sometimes allows us to ship as early as within seven work days after receiving the purchase order.  The following photos show a PAST Trainer configured with two sets (boxes) of spare aluminum penetration panels and a Foundation Anchor System, and the wooden platform on which they are mounted.  The Trainer is shown lying on its back, which is the way it is shipped.
Headquarters Offices:
The headquarters offices of Airport Professional Services and Schott Enterprises (see below) are both located in Bellevue, Nebraska.  Dottie Schott, Vice President of both companies, manages the financial and accounting functions at that location.
The headquarters office of Flanagan Consulting, LLC  is also located in Bellevue, Nebraska, and all of Flanagan Consulting's business management and services functions are performed at that location. Patricia (Pat) Flanagan is their Vice President, and provides management, financial, and administrative services as required.
Schott Enterprises, LLC:
Gary Schott also owns Schott Enterprises, LLC, a property management company.  Because Plattsmouth, Nebraska, has proven to be a business-friendly community, he chose to locate the essential functions of both of his companies there.  Therefore, both the APS Shipping Center and the Schott Enterprises business facility are co-located in a property he owns in Plattsmouth.  Schott Enterprises'  function is leasing industrial space in the Omaha, Nebraska area. The website address is www.SchottEnterprises.com.
Aronia Berry and Vegetable Produce Enterprise:
Gary Schott is also in the process of establishing an Aronia berry and vegetable production enterprise. He is currently growing Aronia berries and vegetables on agricultural land he owns in Plattsmouth.  This is a rapidly-emerging agricultural industry in the United States, although is it much more widely developed in Europe.  Once he fully develops all aspects of this enterprise, he will formally incorporate it as a separate, fully functioning business entity.
Significant FAA Documents Relating to the High Reach Extendable Turret (HRET) and the Penetration Aircraft Skin Trainer (PAST Trainer):