Deliveries
Penetration Aircraft Skin Trainer (PAST Trainer) Deliveries to Aircraft Rescue & Fire Fighting (ARFF) Departments, ARFF Regional Training Centers, and Government Agencies  in the USA, Canada, and Overseas are listed below.
Large airport systems and airport authorities are purchasing multiple PAST Trainers to place at each of their airports and ARFF stations to enable convenient and frequent HRET penetration training. The photo below shows two freight trucks in the process of being loaded with two PAST Trainers to be delivered to the San Francisco International Airport.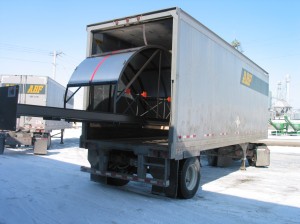 Airports to which we have delivered four (4) PAST Trainers:



Houston Airport System (HAS), Houston, Texas.  George Bush Intercontinental Airport,  William P. Hobby Airport, Ellington Field Joint Reserve Base Airport, Houston Spaceport.
Massachusetts Port Authority (Massport), East Boston, Massachusetts.  Fire Rescue Headquarters, Logan International Airport (Boston, MA), L. G. Hanscom Field (Medford, MA), and Worcester Regional Airport (Worcester, MA).  
Airports to which we have delivered three (3) PAST Trainers:
Port Authority of New York and New Jersey (PANYNJ).  Newark International Airport, Newark, New Jersey, and Teterboro Airport, Teterboro, New Jersey.

Airports to which we have delivered two (2) PAST Trainers:
Greater Orlando Aviation Authority, Orlando International Airport, Orlando, Florida
Federal Aviation Administration (FAA) Technology Center, Airport Safety Technology, R&D Section
San Francisco International Airport, San Francisco, California
Aéroports de Montréal, Québec, Canada.  Mirabel International Airport (Quebec),  and Trudeau International Airport (Quebec)
Detroit Metro Wayne County Airport, Wayne County Airport Authority, Detroit, Michigan
Aircraft Rescue and Firefighting (ARFF) Training Centers to which we have delivered PAST Trainers:
Dallas/Fort Worth Fire Training and Research Center, Dallas/Fort International Airport, Texas
Salt Lake City ARFF Training Center, Salt Lake City International Airport, Utah
San Bernardino Regional Emergency Training Center, San Bernardino International Airport, California
Air Force Plant 42 ARFF Technology Center, Palmdale, California
Hartsfield Jackson Atlanta International Airport (ATL) Fire Training Center, Georgia
Departments outside the contiguous (continental) United States to which we have delivered PAST Trainers:
Hilo International Airport Fire Department–ARFF, Hilo, Hawaii (USA)
Aeroport de Quebec Inc, Quebec City, Quebec, Canada

Won Pat International Airport, Tamuning, Guam

 Halifax Stanfield International Airport, Halifax, Nova Scotia, Canada

Airports de Montréal, Montréal Mirabel International Airport, Quebec, Canada 
Airports de Montréal, Montréal Trudeau International Airport, Quebec, Canada
Changi International Airport, Singapore
Victoria International Airport, Victoria, British Columbia, Canada
Geneva International Airport, Geneva, Switzerland
Calgary International Airport, Alberta, Canada
Hickam Air Force Base, Hawaii (USA)
Ted Stevens Anchorage International Airport, Anchorage, Alaska (USA)
Elmendorf Air Force Base, Alaska (USA)
U. S Air Force Base and Air National Guard Base Fire Departments to which we have delivered PAST Trainers:
Nellis Air Force Base, Nevada
Hickam Air Force Base, Hawaii
Scott Air Force Base, Illinois
Whiteman Air Force Base, Missouri
McDill Air Force Base, Florida
McConnell Air Force Base, Kansas
Edwards Air Force Base, California
Elmendorf Air Force Base, Alaska
Offutt Air Force Base, Nebraska
Air Force Plant 42, ARFF Training Center, Palmdale, California
Truax Air National Guard Base, Madison, Wisconsin
Airports, Air Force Bases, Air National Guard Bases, and other ARFF Organizations in the United States, Canada, and overseas to which we have delivered one PAST Trainer:
Single Deliveries (Deliveries Beginning with PAST Trainer Number 100 are so Indicated) :
Hilo International Airport Fire Department–ARFF, Hilo, Hawaii — PAST Trainer Number 111
Nellis Air Force Base, Nevada — PAST Trainer Number 110
Monroe Regional Airport, Fire Department, Monroe, Louisiana — PASY Trainer Number 109
Hector International Airport, Fargo, North Dakota — PAST Trainer Number 108
Greater Orlando Aviation Authority, Orlando International Airport, Orlando, Florida (GOAA's second PAST Trainer) — PAST Trainer Number 107
Massachusetts Port Authority (Massport), Logan International Airport, East Boston, Massachusetts (Massport's Fourth PAST Trainer) — PAST Trainer Number 106
E-ONE, Inc., Ocala, Florida — PAST Trainer Number 105
Corpus Christi International Airport, Corpus Christi, Texas — PAST Trainer Number 104
Manhattan Regional Airport, Manhattan, Kansas — PAST Trainer Number 103
Bishop Airport Authority, Bishop International Airport, Flint, Michigan  — PAST Trainer Number 102
Aeroport de Quebec Inc., Quebec City, Quebec, Canada — PAST Trainer Number 101
Federal Aviation Administration (FAA), Atlantic City International Airport, New        Jersey   (Second PAST Trainer) — PAST Trainer Number 100
Port Authority of New York and New Jersey (PANYNJ), Teterboro Airport, Teterboro, New Jersey. (PANYNJ's second PAST Trainer).
Eagle County Regional Airport, Gypsum, Colorado.  (This was not a typical sale and delivery.  Their Airport's ARFF Department sent a PAST Trainer acceptance team and trailer to the APS Shipping Center in Plattsmouth, NE to purchase and take receipt of their PAST Trainer. APS loaded it on their trailer, and the Team transported it to their Airport in Gypsum, CO.)

Massachusetts Port Authority, Worcester Regional Airport, Worcester, Massachusetts (Massport's Third PAST Trainer)
Port of Seattle Fire Department, Seattle, Washington
Massachusetts Port Authority, Hanscom Field Airport, Bedford, Massachusetts            (Massport's Second PAST Trainer)      
Offutt Air Force Base, Nebraska
Raleigh-Durham Airport, Raleigh, North Carolina     
Air Force Plant 42, ARFF Technology Center, Palmdale, California
Won Pat International Airport, Tamuning, Guam
Dallas Love Field, Dallas, Texas
Des Moines International Airport, Des Moines, Iowa
Hillsborough County Aviation Authority/Tampa International Airport, Tampa, Florida
Greater Orlando Aviation Authority, Orlando International Airport, Orlando, Florida (GOAA's first PAST Trainer)
Hartsfield-Jackson Atlanta International Airport, Atlanta, Georgia
Lake Charles Regional Airport, Lake Charles, Louisiana
Valley International Airport, Harlingen, Texas
Roanoke Regional Airport, Roanoke, Virginia
Detroit Metropolitan Wayne County Airport, Wayne County Airport Authority, Detroit Michigan (Detroit Metro Wayne County Airport's 2nd PAST Trainer)
Baltimore Washington International Airport, Baltimore, Maryland
Kern County Airports Department, Kern County Airport-Meadows Field, Bakersfield, California
Metropolitan Airports Commission, Minneapolis-St. Paul International Airport, Minneapolis, Minnesota
Santa Maria Public Airport District, Santa Maria, California
Halifax International Airport Authority, Halifax Stanfield International Airport, Enfield, Nova Scotia, Canada
Aéroports de Montréal (ADM), Montréal-Mirabel International Airport, Mirabel, Québec, Canada (ADM's 2nd PAST Trainer)
Southern California Logistics Airport, Victorville, California
San Antonio Airport System, San Antonio International Airport, San Antonio, Texas
Bill and Hillary Clinton National Airport, Little Rock, Arkansas
Phoenix International Airport, Phoenix, Arizona
Changi Airport, Singapore
Huntsville-Madison County Airport Authority, Huntsville International Airport, Huntsville, Alabama
Omaha Airport Authority, Eppley Airfield, Omaha, Nebraska
Philadelphia International Airport, Philadelphia, Pennsylvania
Reno-Tahoe International Airport, Reno, Nevada
McCarran International Airport, Las Vegas, Nevada
Chennault International Airport Authority, Lake Charles, Louisiana
Victoria International Airport, Victoria, British Columbia, Canada
Austin-Bergstrom International Airport, Austin, Texas
Tyler Pounds Regional Airport, Tyler, Texas
John Wayne Airport, Orange County, Santa Ana, California
Dallas-Fort Worth International Airport (DFW), Dallas, Texas
Sarasota Bradenton International Airport, Sarasota, Florida
Indianapolis International Airport, Indianapolis, Indiana
Rapid City Regional Airport, Rapid City, South Dakota
San Francisco International Airport (SFIA), San Francisco, California (SFIA's 2nd PAST Trainer)
San Francisco International Airport (SFIA), San Francisco, California (SFIA's 1st PAST Trainer)
Tallahassee Regional Airport, Tallahassee, Florida
Houston Airports System, Houston, Texas (Houston Airports System's 4th PAST Trainer)
Houston Airports System HAS), Houston, Texas (HAS' 3rd PAST Trainer)
Columbus Regional Airport Authority, Port Columbus International Airport, Columbus, Ohio
Scott Air Force Base, Illinois
Hickam Air Force Base, Hawaii
Cleveland Hopkins International Airport, Cleveland, Ohio
Aéroports de Montréal (ADM), Montréal-Trudeau International Airport, Montréal, Québec, Canada  (ADM's 1st PAST Trainer)
Springfield-Branson National Airport, Springfield, Missouri
King County International Airport, Seattle, Washington
Port Authority of New York and New Jersey PANYNJ), Newark Liberty International Airport, Newark, New Jersey (PANYNJ's first PAST Trainer)

Plattsburgh International Airport, Plattsburgh, New York
City of Boise Airport ARFF Department, Boise, Idaho
San Bernardino Regional Emergency Training Center, San Bernardino, California
Onslow County Airport, Richlands, North Carolina
Detroit Metropolitan Wayne County Airport, Wayne County Airport Authority, Detroit, Michigan (Detroit Metro Wayne County Airport's 1st PAST Trainer)
Tulsa International Airport, Tulsa, Oklahoma
Geneva International Airport, Geneva, Switzerland
Calgary International Airport, Alberta, Canada
Baton Rouge Metropolitan Airport/Police ARFF, Baton Rouge, Louisiana
Anchorage International Airport Police and Fire, Anchorage, Alaska
Northwest Arkansas Regional Airport, Bentonville, Arkansas
Elmendorf Air Force Base Fire Department, Alaska
Massport Boston-Logan International Airport, Boston, Massachusetts. (Massport's first PAST Trainer)

Edwards Air Force Base Fire Department, California
McConnell Air Force Base Fire Department, Kansas
Federal Aviation Administration (FAA) Technical Center, Airport Safety Technology, R&D Section, Atlantic City, New Jersey.  (FAA's first PAST Trainer)

Louis Armstrong New Orleans International Airport ARFF Department, New Orleans, Louisiana
Charlotte-Douglas International Airport, City of Charlotte Fire Department, Charlotte, North Carolina
Miami Dade County Fire Rescue Aviation Division, Miami International Airport, Miami, Florida
Palm Beach County Fire Rescue, Palm Beach International Airport, Palm Beach, Florida
Decatur Airport, Decatur, Illinois
Fort Lauderdale Hollywood International Airport, Broward County Sheriff's Office ARFF Unit, Fort Lauderdale, Florida
Truax Air National Guard Base, Madison, Wisconsin
Myrtle Beach International Airport, Myrtle Beach, South Carolina
Salt Lake City ARFF Training Center, Salt Lake City International Airport, Salt Lake City, Utah
Palm Springs International Airport, Palm Springs, California
Kansas City International Airport, Kansas City, Missouri
Chicago Midway International Airport, Chicago, Illinois
Central Illinois Regional Airport at Bloomington-Normal, Illinois
Chico Municipal Airport, Chico, California
Bradley International Airport, Windsor Locks, Connecticut
San Diego International Airport, San Diego, California
MacDill Air Force Base Fire Department, Florida
Whiteman Air Force Base Fire Department, Missouri
Houston Airports System – William P. Hobby Airport, Houston, Texas (Houston Airports System's 2nd PAST Trainer
Houston Airports System (HAS) – George Bush Intercontinental Airport, Houston, Texas (HAS' 1st PAST Trainer)
Dulles International Airport, Dulles, Virginia
General Mitchell International Airport, Milwaukee, Wisconsin
Installations:
The following are photos showing examples of PAST Trainer installations, in various stages of completion, constructed by the owner of the Trainer (some airports perform the installations themselves; some contract out the work):